Technological innovation
Vascular Diode Laser 980nm
The removal of dermal vascular lesions is one of the most popular aesthetic treatments nowadays.
Diovas ™ is a 980nm transdermal diode laser with optical fiber transmission, designed to treat telangiectasias, small vessels (up to 4mm in diameter), and other vascular lesions.
Thanks to its small size, advanced design, and maximum stability Diovas™ brings a new dimension to this cutting-edge technology.
Parameters of the laser light
The treatment with diode laser 980 applies the principle of selective photothermolysis. Laser light Diovas ™ is absorbed by the oxyhemoglobin of the blood, so the vessels may be thermocoagulated under the skin without any injury. The 980nm wavelength of Diovas™ laser ensures:
Good absorption by the

oxyhemoglobin

​.
Lower absorption by the epidermal melanin.
Good tissue penetration.
The laser light is applied to the skin along the path of the vascular lesion, while the heat coagulates and closes the vessel (photothermocoagulation) without damaging the skin or surrounding tissue.
Advantages
The advantages of not producing purple, excellent dermal penetration, less chance of pigmentation disorders compared to other treatments, no bandages are needed, no allergic reactions and no needles or bruising.
Due to the low absorption of this wavelength by melanin, this treatment can be performed in high photo types and in all seasons. In addition, the patient can return to normal activity immediately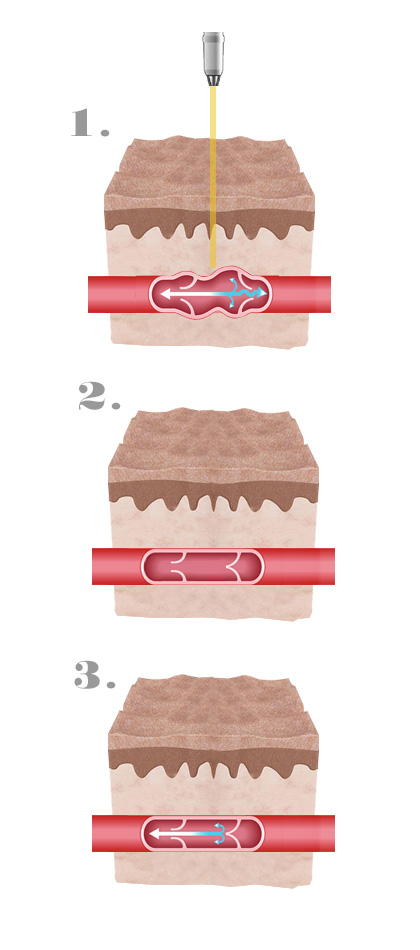 Indications
Rosaceas.
Facial Telangiectasia.
Telangiectasia and spider veins in the lower extremities.
Nevus flammeus or port wine stain.
Vennos lake lips.
Hemangiomas.
Rubí points.
Treatment Application
Keep the laser head at an angle of 45 degrees with the skin.
Cool the area after the treatment.
Apply and inflammatory cream during 2-3 days.
Protect the area from the sun after treatment.
For removing most small varicosities will be necessary 2 to 4 sessions per area. This treatment is performed at intervals of 2 to 4 weeks, depending on the skin and the treated problem.
Telangiectasias – 3 sessions
Rubies spots – 2 sessions